Medical device apps are increasingly growing these days. MHRA has issued new guidance on the stand-alone software medical devices, including apps. This guidance is a crucial document for manufacturers and users of such medical devices.
In the UK, medical devices are subject to UKCA marking. The UKCA marking is no exception to software medical devices.
Software- medical device or not
Classifying software or a mobile app as a medical device can be challenging. If the software or app has a well-defined intended medical purpose, it is essential to mark CE or UKCA on the product. This ensures that the device conforms to the requirements of the regulation of the EU and UK and is safe for use. The flow chart provided below helps determine if the software is a medical device, in vitro diagnostic device, active implantable, or accessory.
Intended purpose
A medical device is defined by the intended purpose on the device labelling, Instructions for use and any promotional materials, including brochures.
Depending on the intended purpose, the device can be classified as a device with a medical purpose if it:
Prevents disease
Diagnoses a disease, injury or handicap
Monitoring a disease, injury or handicap
Treats or alleviation of a disease, injury or handicap
Compensates an injury or handicap
Investigates replaces or modifies anatomy or physiological process
Controls conception
A software device is considered to have a medical purpose if it has one of the following features and looks into in vitro data:
Concerning a physiological or pathological state
Concerning a congenital abnormality
To determine the safety and compatibility with potential recipients
To monitor therapeutic measures
Software Medical device classification and essential requirements
For software medical devices, the following classification rules of Medical Device Directive 93/42/EEC apply.
Rule 9 includes active therapeutic devices intended to administer or exchange energy
Rule 10 includes active devices intended for the diagnosis
Rule 12 includes all other active class I devices
Rule 14 includes devices used for contraception or the prevention of the transmission of sexually transmitted diseases
One of the essential requirements for software apps is for the benefit to outweigh any risks. Essential requirements also state the risks of ergonomic features and the intended use environment. Manufacturers of such devices must ensure that the user interface must be consistent, and graphics and text must be clear and legible. The software or app must be designed with safety in mind. In addition, the clinical evaluation following Annex X of the UK MDR must be done. A similar set of requirements applies to IVDs.
Labelling requirements
The software labelling must be clear and visible to the user. Manufacturers must ensure the app meets relevant requirements and displays UKCA marking on the landing page itself.
The following particulars must be present on the software label:
App name
Version number
Date of manufacture
Manufacturer name and address
UKRP name and address
Purpose of software
Warnings and precautions
UKCA or CE marking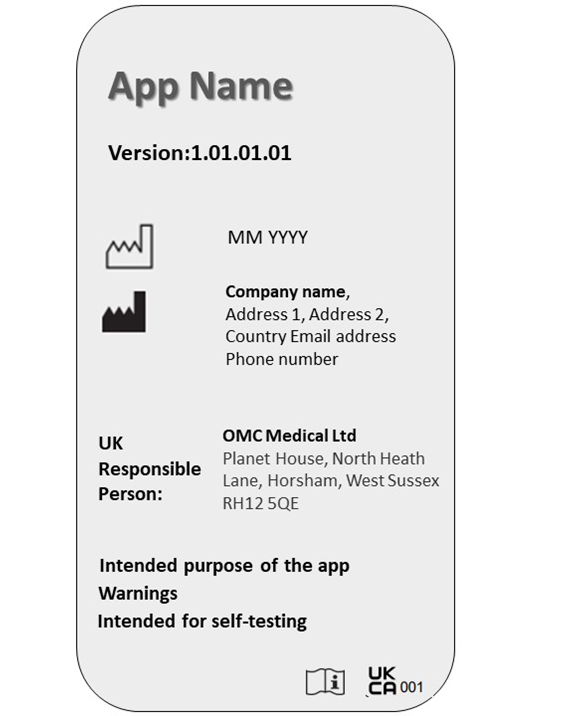 Examples of Software with a medical purpose
Software with a medical purpose may be devices that:
Provide information for the calculation of drug dose using IVD data such as blood
Enables therapeutic drug monitoring
Monitor blood glucose levels
Provides medical conditions based on input user data
Indicate potential developing disease based on the entered data
Automate the pathway for treatment for an individual
Enables people with visual or hearing disabilities to read or listen by magnifying text or amplifying sounds
Software or app without an intended medical use would include:
General apps for recording patient images which later require the diagnosis of a clinician
Apps that give general recommendations instead of user-specific advise
Software that is intended to record heart rates, such as fitness or sports apps
Apps that remind patients of drug intake
Apps to treat non-medical conditions
Software that provides tips or advice
Disclaimer: Regulations/legislations are subjected to changes from time to time and the author claims no responsibility for the accuracy of information.