MEDICAL DEVICE REGULATION
UPDATE IN SWITZERLAND
1. Who is responsible for medical device regulation in Switzerland?
The Swiss Agency regulates medical devices for Therapeutic Products (Swiss medic)
2. Which current Switzerland medical device regulations need to be followed by stakeholders?
From May 26th, 2021, Stakeholders need to follow the revised Medical Devices Ordinance. (MedDO) and a new Ordinance on Clinical Trials with Medical Devices (CTO-Medd).
3. What is the EU- Switzerland mutual recognition agreement (MRA)?
EU- Switzerland mutual recognition agreement (MRA) is a crucial agreement between the EU and Switzerland. It allows the bilateral trade of several goods like medical devices, heavy machines, vehicles, etc. This MRA allowed mutual recognition of conformity assessment certificates between Europe and Switzerland.
4. What is the status of the EU-Switzerland mutual recognition agreement (MRA) for medical devices?
MRA is not updated on May 26th, 2021. As a result, the new medical device regulation of the European Union, i.e., EU MDR 2017/745, is not included in MRA. MRA has previous directives 90/385/EEC and 93/42/EEC in the medical chapter.
5. What are the consequences of this MRA status on the Swiss manufacturers/authorised representative who wants to place their products on the EU market?
From now on, Switzerland will be treated like a third-world country by the European Union. Manufacturers & authorised representatives based in Switzerland will need to appoint an EU Authorised representative in the EU and followed EU-MDR 207/745 to place medical devices on the EU market. Medical devices will need to undergo conformity assessment procedures by Notified Bodies in the EU to get CE certificates. All the existing CE certificates based on directives 90/385/EEC and 93/42/EEC under the MRA will not be considered valid in the European Union.
6. Which regulations do I need to follow in order to place my device on the swiss market?
Manufacturers will need to follow the revised Medical Devices Ordinance (MedDO) to place their products in Switzerland.
7. What are MedDO requirements?
Primary requirements of MedDO include the appointment of Switzerland authorised representative (Switzerland AR) for manufacturers based outside of Switzerland, economic operators registration and continuous reporting of severe incidents to Swissmedic, UDI assignment, and device notification.
8. Who needs to register with Swissmedic?
Economic operators (manufacturers, importers, authorised representatives placed in Switzerland) need to register themselves with Swissmedic in the first three months of
placing the device in the market. After successful registration, they will be assigned a Swiss Single Registration Number (CHRN). The Swiss Single Registration Number (CHRN) is a unique identification number to identify. Economic operators who already sell products before May 26th, 2021, in accordance with MDR 2017/745 & IVDR 2017/ 746, registrations in accordance must be completed by November 26th, 2021.
9. What is the process of economic operator registration with Swissmedic? What are the registration fees?
The economics operator needs to submit the information to Swissmedic with the help of a registration form: Application registration CHRN. Swissmedic will review the information. Once it is successfully reviewed, the economic operator will receive CHRN. For the assignment of CHRN, fees will be based on the amount of review work done by Swissmedic per application. It is CHF 200 per hour.
10. What Information is required by Swissmedic for economic operators registration?
Name of the registrant, contact details, details of the person responsible for regulatory compliance, commercial Register extract, For Swiss-domiciled, authorised representatives to mandate from a manufacturer outside Switzerland is required by Swissmedic.
11. Who can be appointed as Switzerland AR? What is the deadline for appointing Switzerland AR?
A Swiss authorized representative (Swiss AR) is a legal person that needs to be appointed by a manufacturer established outside of Switzerland to place the products on the Swiss market. A written mandate/letter designating an authorised representative for a medical device manufacturer is mandatory. Any legal entity or natural person situated in Switzerland can act as Switzerland AR. Switzerland AR is responsible for product safety and will be held liable for product defects. Manufacturers can appoint only a single Authorised representative in Switzerland.
Timeline to appoint Switzerland AR: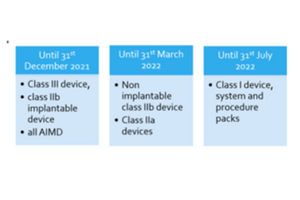 12. Which devices need to be notified to Swissmedic? What is the process?
The following device needs to be notified to Swissmedic before placing it on market:
13. What is the timeline to assign UDI?
For placing UDI- carriers on the labels of the device deadline for implantable devices and
class III devices are 26th May 2021, Class IIa and class IIb devices are 26th May 2023 and for
class I devises it is 26th May 2025.
14. Will the Swissmedic accept CE certificates?
CE certificates from notified bodies placed in EU/EEA countries will be valid in Switzerland until and unless the applied conformity assessment procedures comply with the Swiss requirements meet, and they are issued by a notified body that has an equivalent qualification as described in MedDO.
15. What are the regulations for the In vitro diagnostic devices?
In vitro, diagnostic medical devices regulations are in the final step. They will be published as a separate ordinance on in-vitro diagnostics (IvDO).
What We Offer
Act as your Switzerland authorised representative
MedDO compliance
Economic operator registration
Medical device notification
EU MDR, IVDR gap analysis
Why Choose Us
Working towards client satisfaction
Cost-effective solutions
Project completion before deadline
Quality Regulatory affairs solutions
Contact us for a free consultation: [email protected]