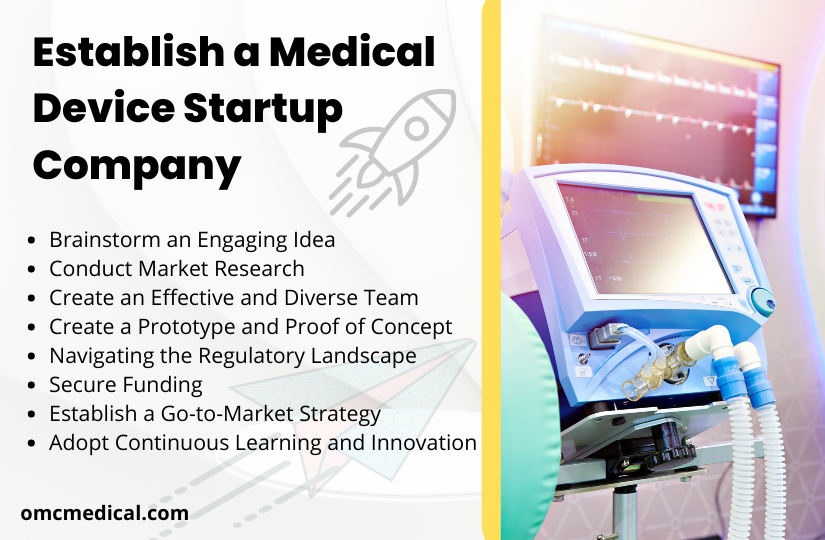 Introduction: Medical device startups play an essential role in revolutionizing patient care and improving quality of life. If you share our passion for innovation, starting a medical device company could prove rewarding yet challenging – this article offers comprehensive guidance to help get one started.
Tips to start a Medical Device Startup Company
1. Brainstorm an Engaging Idea:
Every successful medical device startup begins with an original idea. Start by researching the healthcare industry and identifying unmet needs or potential gaps in existing solutions; engaging healthcare providers, clinicians and patients for insights to gain further understanding; engaging healthcare providers, clinicians/patients for insight.
Having this insight allows for creative problem-solving ideas which meet genuine needs while offering commercial viability potential.
Once your idea is developed, conduct extensive market research to gauge its viability. Consider factors like target market size and competition analysis; reimbursement policies consideration; pricing strategies investigation and market adoption factors as part of this analysis process.
Conducting such research will allow you to refine and assess the commercial potential of your idea while making more informed decisions in your startup journey.
3. Create an Effective and Diverse Team:
A strong and diverse team is critical to the success of any medical device startup. Bring on board experts with experience in product development, clinical research, marketing and finance; find individuals passionate about your mission with skills to overcome any hurdles; partner with advisors, consultants and industry professionals in order to leverage their knowledge and networks.
Establishing your product in multiple markets successfully relies heavily on finding an experienced regulatory partner who can collaborate on this endeavor.
Give life to your vision by developing a prototype and proof of concept. This step involves translating engineering designs to functional prototypes and conducting preliminary tests – common challenges medical device startups encounter during this step include prioritizing features that set their product apart while iterating upon user, expert, and advisor feedback to refine its design according to user input received; additionally it's wise to keep regulatory requirements front of mind to ensure compliance from day one.
Navigating and understanding the regulatory environment are integral parts of starting a medical device company, and OMC Medical's team of regulatory affairs specialists can offer invaluable assistance here.
They know exactly what steps are necessary to gain regulatory clearance or approval for your medical device – their knowledge of FDA or CE marking requirements can help streamline this path, saving time and resources while ensuring compliance.
Producing a medical device from concept to commercialisation requires significant financial resources. In order to secure funding sources such as angel investors, venture capitalists, government grants and crowdfunding platforms – identify them beforehand by conducting due diligence processes with potential angel or venture investors before creating your pitch deck and business plan outlining market potential, competitive advantages and financial projections; develop relationships with prospective investors as you prepare for due diligence processes with them; seek guidance from experienced entrepreneurs or join incubator and accelerator programs offering funding options;
7. Establish a Go-to-Market Strategy:
Craft an inclusive go-to-market plan, covering marketing, sales and distribution channels. Create key opinion leaders as supporters for your product or service; employ digital marketing strategies or attend industry trade shows as means of increasing awareness while sparking interest; establish distribution channels to guarantee efficient product reach among target users.
For success in today's ever-evolving medical device industry, cultivating a culture of continuous learning and innovation is paramount. Keep abreast of research findings, technological advancements, regulatory requirements and feedback from users and healthcare professionals on ways your product could be enhanced further; adjust accordingly in response to market dynamics and user needs in order to sustain growth over time.
Conclusion: Starting a medical device company requires innovation, persistence and careful strategic planning. By following these steps and drawing upon the experience and knowledge of industry experts, you can successfully navigate the complexities of the healthcare industry and develop groundbreaking medical devices that improve patient outcomes while contributing to expanding healthcare overall.
---
Finding an exciting medical device startup idea requires extensive research and investigation. Here are a few sources and methods that may help you uncover an impressive concept to move your vision forward:
Market Research:
Conduct market research to identify unfulfilled needs, gaps or challenges within the medical device industry. Assess current trends, emerging technologies and market dynamics while noting any areas where existing solutions fall short or innovative approaches could greatly enhance performance.
Market research tools available around the globe are invaluable resources for medical device startups. Here are a few commonly utilized ones:
These tools can assist you in gathering market data, industry trends and competitor analysis so you can make educated decisions regarding your medical device startup. Be sure to supplement them with primary research, expert interviews and validation from potential users for a complete understanding of the market.
1. Healthcare Professionals and Experts: For insights and perspectives from relevant healthcare professionals in providing healthcare and patient care services. These discussions may reveal what challenges healthcare professionals encounter when providing patient care services; their feedback could point out areas where medical devices could make significant impacts in real-life scenarios – sometimes direct action may be the key to success!
2. Addressing Patient Needs and Experiences: Pay close attention to patient needs and experiences by gathering stories, engaging with patient advocacy groups, conducting surveys or interviews and carefully listening for answers about challenges, limitations or ways medical devices could enhance quality of life or healthcare outcomes.
3. Solicit Feedback From Potential Users: Collect feedback from prospective users such as healthcare professionals, patients, caregivers and any other stakeholders involved with producing your medical device through interviews, focus groups or surveys in order to discover their pain points, preferences and desires for improved medical devices. Pay close attention as prospective users may provide invaluable feedback that can shape your idea while meeting end user requirements.
4. Technology and Innovation Hubs: Explore technology and innovation hubs such as startup incubators, accelerators or research centres dedicated to medical devices or healthcare. These hubs may offer resources, mentorship and networking opportunities with industry professionals and investors; engaging with these communities could open your mind up to new perspectives and foster creative problem-solving techniques.
5. Literature Review and Intellectual Property Analysis: When conducting a literature review related to medical devices, conduct an intensive analysis of all existing research, patents, scientific publications and intellectual property pertaining to them. This can provide insights into areas where significant advances have been made or where innovation may be necessary; intellectual property analysis also sheds light on untapped opportunities or possible areas for differentiation.
Keep in mind that coming up with an innovative idea requires research, creativity and industry knowledge. Be open to gathering varying viewpoints while validating your concepts through market research or feedback from others.
Create a Prototype and Proof of Concept
There are many companies that specialize in helping entrepreneurs and startups with prototype design. Their services range from consulting through prototyping – here are a few notable companies operating in this space:
1. IDEO: IDEO is an international design and innovation firm known for its human-centered design approach. Their services encompass product design, prototyping and designing strategy development as well as helping entrepreneurs create prototypes that align with user needs and market requirements.
2. Proto Labs: Proto Labs is a rapid prototyping and manufacturing service provider, offering 3D printing, CNC machining, injection molding and fast turnaround times to rapidly transform designs into functional prototypes.
3. Dragon Innovation: Dragon Innovation provides hardware startups with expert design, engineering and manufacturing support services from prototype design through mass production of their product development efforts.
4. Bresslergroup: Bressler group is a design and innovation consultancy, offering startups assistance in creating innovative product concepts and translating them to functional prototypes. Their specialty lies in user-centered design; furthermore they also offer industrial design engineering as well as prototyping expertise.
5. PCH International: PCH International is a product development and supply chain management firm that works with both startups and established brands alike, offering services like prototyping, manufacturing and logistics that help bring product ideas to fruition for startups.
6. Spark Innovations: Spark Innovations is a product design and development firm, specializing in turning ideas into prototypes and manufacturing-ready designs. Their services encompass industrial design, mechanical engineering, prototyping techniques and various other disciplines of study.
7. Altitude: Altitude is a design consultancy that assists startups with product design and development. They specialize in concept ideation, prototyping and user experience design services to produce engaging prototypes with functional capabilities that enable companies to test out their ideas with.
8. TTP (The Technology Partnership): TTP is an engineering and technology development firm offering product design, prototyping and manufacturing services for medical devices, consumer electronics and industrial products. Their teams boast extensive expertise across their various areas of specialization.
These companies specialize in working with startups, providing expertise, technical skills, and resources that can assist your prototype design from conception to realization. Selecting one that best meets your needs, budget, and project requirements is paramount.
Navigating the Regulatory Landscape
Navigating the regulatory environment when starting a medical device company is critical to its success. Adherence to regulatory requirements ensures patient safety, product efficacy and market access regardless of your launch location. Here are some key points for navigating this terrain:
1. Determine Applicable Regulations: Identify all regulatory bodies and laws relevant to medical devices in your target market, such as FDA in the U.S. regulating them under Food, Drug, and Cosmetic Act or In Vitro Diagnostic Regulation (IVDR or MDR) in Europe regulating them accordingly. Knowing which laws pertain directly to your device's success is of utmost importance for its success.
2. Classify Your Device: Medical devices can be divided into various risk categories depending on their intended use and potential risks to patients, with each category determining regulatory requirements and levels of scrutiny for market approval. By classifying your device appropriately (Class I, II or III) you can better understand regulatory pathways, conformity assessment procedures and documentation requirements applicable.
3. Establish a Regulatory Strategy: From early in product development, create an in-depth regulatory strategy plan. This should include all steps and timelines necessary for regulatory compliance such as preclinical testing, clinical studies, quality management system implementation, regulatory submissions etc. Partner with experts or consultants to make sure your plan aligns with regulatory requirements.
4. Conduct Preclinical and Clinical Studies: Depending on the risk category of your device, preclinical and clinical studies may be required to demonstrate its safety and efficacy. Preclinical testing includes lab and animal models; while human participation testing occurs during clinical studies. Data generated during these studies provides regulatory submissions with evidence of your device's safety and performance.
5. Quality Management System (QMS): Establish and implement an ISO 13485 compliant quality management system in order to comply with processes, design controls, manufacturing, post market surveillance requirements as well as regulatory standards imposed upon your processes and their system requirements – this ensures consistency, traceability and documentation throughout product life cycles.
6. Prepare Regulatory Submissions: Gather all necessary paperwork and create regulatory submissions for market approval, such as technical files, design dossiers, labelling information, risk analyses and clinical data. Ensure your documents comply with any specific requirements set by regulatory bodies in terms of format, content and process for submissions.
7. Post-Market Surveillance: Once regulatory clearance or approval is secured, establish post-market surveillance processes to track and report adverse events; conduct clinical follow-up studies post market; as well as create a vigilance system to track device's ongoing safety and performance monitoring.
8. Keep Current on Regulatory Developments: As regulations for medical devices can change at an ever-increasing pace, stay abreast of any updates or revisions that might impact your device by engaging with industry associations or regulatory agencies as well as attending conferences or webinars to remain aware of new developments and ensure compliance.
Navigating the regulatory environment takes careful planning, strict adherence to standards and extensive knowledge of regulations affecting medical devices in your target market. Engaging regulatory specialists or consulting experts is invaluable when it comes to meeting compliance obligations, speeding approval processes and successfully bringing medical devices or services products or services to market.
Secure Funding:
As with anything, funding options for medical device startups vary across regions. Below are a few sources in Europe, the UK, Switzerland, USA, China and India,
Europe:
1. European Investment Fund (EIF): The EIF offers funding through various programs such as venture capital funds and equity investments to support innovative startups across Europe – specifically medical device industry startups.
2. Horizon Europe: This European Union program offers grants, loans and equity investments to promote research and innovation across various fields – such as healthcare and medical technology.
3. European Investment Bank (EIB): The EIB offers financing and investment support to European innovative companies such as medical device startups through venture capital funds and direct investments.
United Kingdom:
1. Innovate UK: As the UK's innovation agency, Innovate UK provides funding opportunities to both early-stage and established medical device businesses through programs that support research, development, and commercialisation activities.
2. Crowdfunding: Crowdfunding is famous in the UK and is known to attract bigger investors in the pool of thousands of investors. Standing out here is difficult but right technology has raised millions through this platform.
Switzerland:
1. Swiss Innovation Agency (Innosuisse):
Innosuisse provides funding and support services to startups engaged in innovative projects within Switzerland, such as medical device startups. They offer grants, coaching sessions, as well as access to their network of experts and resources.
United States:
1. National Institutes of Health (NIH): The NIH offers grants, contracts and funding opportunities for early stage and translational medical device research projects, including funding opportunities such as Small Business Innovation Research grants (SBIR) and Technology Transfer Research programs which assist startups creating innovative medical device products.
2. Small Business Administration (SBA): The SBA offers various loan programs, such as its 7(a) loan program that provides medical device startups with funding.
Medical device startups in these regions must research each funding source carefully and understand its eligibility criteria, application processes and terms in order to gain access to funds that could help their venture thrive. From local government agencies and incubators/accelerators/grant competitions all these sources could offer funding opportunities.
China:
1. China National Medical Products Administration (NMPA) Funds: The NMPA provides grants and funding programs designed to facilitate developing and commercializing innovative medical devices in China, with an aim of encouraging domestic innovation while improving healthcare delivery systems in China.
2. China Healthcare Investment Funds: Numerous investment funds specializing in healthcare and medical device industries exist within China, supported by government bodies to assist startups creating cutting-edge medical technologies and devices.
3. Chinese Venture Capital Firms: China has an expansive venture capital ecosystem, with firms specialising in healthcare and medical technology investments offering funding, strategic advice and industry connections to medical device startups looking to break into Chinese market. These venture capital firms can be vital allies when venturing into new markets – be it medical device sales or distribution contracts in China.
4. State and Local Government Programs: China has implemented funding programs designed to bolster local startups and foster innovation, including grants, subsidies and other forms of financial incentive to medical device companies located within their borders.
5. Partnerships With Chinese Companies: Medical device startups seeking funding and resources may benefit from entering strategic partnerships with established Chinese medical device manufacturers. Such relationships could take the form of licensing agreements, joint ventures or co-development initiatives that enable startups to capitalize on expertise provided by partners as well as distribution networks provided by partners.
It is crucial to recognize that successfully navigating China's funding landscape requires local expertise and in-depth knowledge of market dynamics and regulations in China. Partnering with advisors, incubators or accelerators that specialize in healthcare funding opportunities could prove helpful in providing guidance.
China is an attractive location for medical device startups to find funding and expansion opportunities due to its expanding healthcare market and emphasis on innovation. To be successful at finding financing in this market, however, extensive research, due diligence and knowledge of local regulations must be performed prior to considering funding opportunities in China..
India provides various funding resources and programs to medical device startups. Here are a few:
1. Biotechnology Industry Research Assistance Council (BIRAC): As a government organization, BIRAC offers various funding schemes for innovative projects within biotechnology and healthcare. Startups creating medical devices may want to consider applying for grants such as the Biotechnology Ignition Grant (BIG), Biotechnology Industry Partnership Programme (BIPP), or Small Business Innovation Research Initiative (SBIRI).
2. Department of Science and Technology (DST)-Technology Development Board (TDB): The DST-TDB provides financial assistance through grants and soft loans for technology development and commercialisation, with medical device startups eligible for funding under either its Technology Development and Utilization Programme (TDUP) or Seed Support System (SSS).
3. Startup India: The Startup India initiative from the Government of India provides numerous benefits and support mechanisms for startups operating within medical device sector, including medical device companies. Startups may gain access to Fund of Funds for Startups (FFS) schemes, tax exemptions, and ease of regulatory compliance.
4. Incubators and Accelerators: India boasts an increasing number of healthcare and medical technology incubators and accelerators that offer funding, mentorship, networking opportunities, access to infrastructure resources as well as funding – such as T-Hub, Centre for Innovation Incubation and Entrepreneurship (CIIE), Atal Incubation Centers (AICs).
5. Venture Capital and Angel Investors: India boasts an active venture capital and angel investor community which invests heavily in healthcare technology startups. Engaging with these investors can provide access to funding as well as the industry expertise essential to growing medical device companies.
6. Public Sector Undertakings (PSUs): Indian public-sector PSUs can collaborate with startups to provide funding for innovative projects. Medical device startups could find partners such as Bharat Heavy Electricals Limited (BHEL), Indian Oil Corporation Limited (IOCL), or Hindustan Petroleum Corporation Limited (HPCL).
Medical device startups looking for funding opportunities in India's diverse healthcare ecosystem must carefully research eligibility criteria, application processes and terms associated with each funding source or program before exploring possible avenues. Engaging with startup competitions, pitch events or networking forums could also open doors to investors that could open funding doors in this market.
Common sources:
Venture capitalists (VCs) and angel investors play key roles in funding startups and driving innovation across various industries – including medical device.
Venture capitalists (VCs) are professional investors that typically employ institutional funds in high-growth startups through venture capital firms. Operating through venture capital firms, VCs provide capital in exchange for equity or ownership stakes in startups in exchange for significant funding investments.
Before making their decisions on investments, venture capitalists conduct extensive due diligence analyses of market potential, growth potential assessment and potential risks of the startups they plan to invest in, to make informed investment decisions. Furthermore, venture capitalists offer strategic guidance, mentorship services, industry connections as well as access to their network which all help drive medical device startups forward!
Angel investors, on the other hand, are typically wealthy individuals who make early-stage startup investments. In contrast to venture capitalists, angel investors tend to be more flexible with their criteria and can provide funds at any point throughout a startup's journey.
Angels tend to take higher risks by supporting promising ideas with passionate founders while providing financial support as well as mentorship and industry insights from previous endeavours. Angel investors play an essential role in kickstarting medical device startups and helping them gain traction in their respective markets.
Venture capitalists and angel investors offer medical device startups invaluable sources of funding and support, with venture capitalists being an especially invaluable source. Leveraging them can give startups access to capital, expertise, industry connections and guidance that helps navigate competitive landscapes, accelerate growth and secure long-term success.
Entrepreneurs must understand the differences in investment criteria for both types of investors in order to approach those most suitable for their startup's stage of development and funding requirements.
Contact our expert team of consultants today and see how they can assist with specific support groups and agencies that offer funding solutions.
Adopt Continuous Learning and Innovation:
AI-Based Products: One of the primary concerns among startups today is creating trustful data sets for AI-powered products; numerous firms specialize in this process and can assist you with adding this capability into medical devices. Below are a few noteworthy firms:
1. IBM Watson Health: IBM Watson Health is a division of IBM that specializes in using AI and data analytics for healthcare purposes, offering solutions such as image analysis, genomic research, drug discovery processes and clinical decision support systems.
2. Google Health: Google Health employs AI technologies to develop innovative healthcare solutions, undertaking projects such as AI-powered diagnostic algorithms, natural language processing for medical records and predictive analytics for disease management.
3. Microsoft Healthcare: Microsoft Healthcare's mission is to revolutionize healthcare with AI solutions. They offer tools, platforms, and services which enable developers to build and deploy AI applications within healthcare – as well as cloud infrastructure to speed deployment of these apps.
4. Arterys: Arterys offers AI-powered medical imaging solutions. Employing deep learning algorithms to analyze medical images and assist radiologists with diagnosing various conditions, Arterys' platform enables faster and more accurate image analysis to facilitate early detection and treatment planning.
5. Aidoc: Aidoc is an AI-powered radiology solution provider. Their algorithms scan medical images quickly and efficiently to quickly recognize critical findings, helping radiologists streamline workflow while improving diagnostic accuracy.
6. BenevolentAI: It is an innovative artificial intelligence (AI) company that combines AI with scientific research in order to accelerate drug discovery and development. They utilize machine learning and data analytics tools in order to rapidly identify potential drug candidates and optimise treatment strategies quickly; providing services in oncology, neurology and rare disease areas among others.
7. Sensyne Health: Sensyne Health specialises in applying AI and clinical data analysis to advance patient care and medical research. They collaborate with healthcare providers and research organizations to design AI-powered solutions that enhance disease detection, patient monitoring, treatment outcomes and treatment success rates.
8. Imperial College London's Faculty of Medicine conducts cutting-edge AI research for healthcare, working closely with industry partners and startups on AI technologies and algorithms that enhance diagnostics, drug discovery and personalized medicine.
9. Cambridge Medical Robotics: Cambridge Medical Robotics specialises in designing robotic systems for minimally invasive surgical procedures using cutting edge AI and machine learning technology to increase surgical precision, improve patient outcomes and accelerate recovery times.
10. PrecisionLife: PrecisionLife uses AI and machine learning techniques to analyze complex datasets and uncover unique insights for personalized medicine projects such as disease stratification, drug target identification and optimizing treatment strategies.
Before selecting an artificial intelligence (AI) development company, it's crucial to assess their expertise, track record and experience within healthcare. Take into account their capacity for compliance with data privacy and regulatory issues as well as understanding of medical device manufacturing challenges. Partnering with an established AI firm will enable you to leverage cutting-edge technology while hasten development of your medical AI device.
Software-Based Products –
There are many solutions providers for IT support where companies assist in the creation or development of software-based products or applications for yous, so as to guarantee optimal outcomes we suggest working with one or more of our recommended partners:
1. Blum Health's Blum Connect offers an all-in-one solution for clinical application software development teams' software development needs. Build or have your team build code and rules themselves.
2. Light-it offers comprehensive software development and security services from start to finish, while Google Health pioneered healthcare innovation with end-to-end solutions, cloud computing services, and security services.
3. Microsoft Healthcare – Provides premier healthcare solutions for developers through their cloud platform and custom software designs.
Contract Manufacturing Services for Healthcare Products: Numerous contract manufacturing services specialize in healthcare product production at scale. Such firms possess the expertise and infrastructure required for producing medical devices, pharmaceuticals and other items related to healthcare on an industrial scale – countries like UK, India, China have invested significantly in this area while DIT of these countries' large-scale healthcare product production works closely with startups operating within this space.