Implant Cards in Switzerland
For implantable products, the manufacturer must provide the product information required under Article 16 of MedDO, the information required under Article 18 paragraph 1 EU-MDR and must include the implant card. In Switzerland, the implant card must be in all three official languages of Switzerland. The information regarding implant card is in MedDO Article 20 Information on implantable devices.
Healthcare institutions must enter the details of the implant recipient in the implant card and give the same to the recipient. They provide the essential information needed by the recipient in a quickly accessible form.
The implant cards will have the following details on them:
Device name
Device type
UDI or unique device identification
Serial /lot or batch number
Name and address of the manufacturer
Website of the manufacturer
Name of the patient or patient ID
Date of implantation
Name and address of the healthcare institution that performed the implantation
Purpose of an Implant Card
Implant cards aims to achieve three main objectives:
Enable the patient to identify the medical devices and to get access to vital information regarding the implant
Enable patients to identify themselves as persons requiring special care in relevant situations like security checks
Enabling emergency clinical staff or first responders to be informed about special care/needs for relevant patients in case of emergencies
The basic shape of the IC is designed in compliance with ISO/IEC 7810 ID-1 (credit card form). The symbols used already exist in the ISO standards and are hence widely accepted. The following picture provides an example for individual device ICs.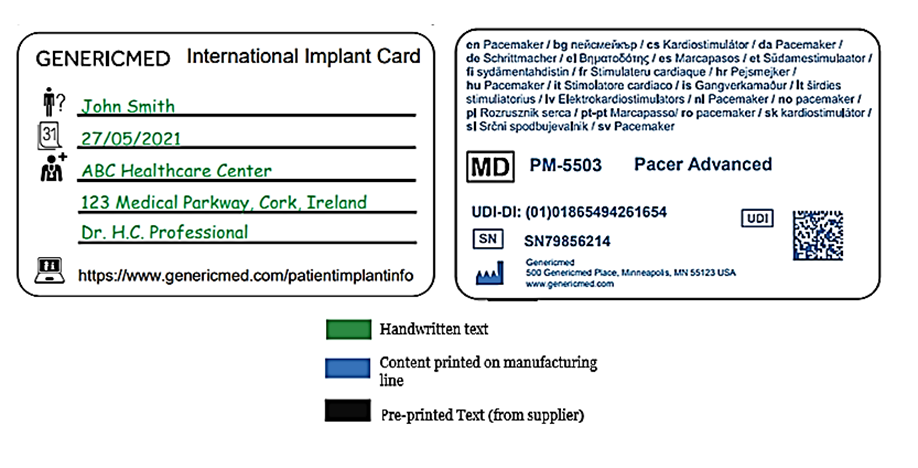 Devices Exempt from IC requirement
Not all implants need an IC. Some implants are exempted from the obligations laid down in Article 18 of EU MDR 2017/745. These include sutures, staples, dental fillings, dental braces, tooth crowns, screws, wedges, plates, wires, pins, clips, and connectors. The information about this is in EU MDR Article 18 paragraph 3.
Language requirements in Switzerland
The information on the IC must be provided in all the three official languages of Switzerland, namely, German, French and Italian. MedDO Article 20 Information on Implantable devices
UDI on Implant Cards
The UDI is a series of numeric or alphanumeric characters that is created through a globally accepted device identification and coding standard. It allows the unambiguous identification of a specific device on the market.
The UDI is comprised of the device identifier (UDI-DI) and the production identifier (UDI-PI). Both the UDI-DI and UDI-PI must be on the implant card. The UDI Carrier (the representation of the UDI) is to be included on the IC in automatic identification and data capture (AIDC) format, e.g., linear or 2D-Barcodes, and the IC must include the UDI-DI in human-readable format. Source: Factsheet for manufacturers of implantable medical devices .